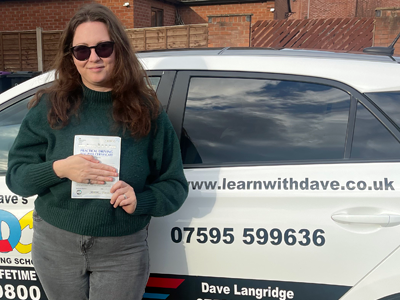 Beth
Test Pass
Thank you to Dave for helping me pass my driving test! As an anxious, older learner with two kids and a busy schedule, I really struggled to find the courage and time to learn. Dave was able to work with me and help me to challenge myself while also accommodating my schedule. He is patient, supportive and explains things well. I would definitely recommend Dave to anyone of any age or ability, who wants to learn to drive. He has honestly helped change my life!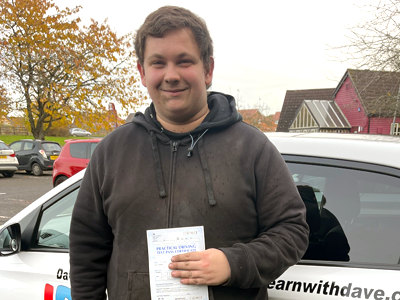 Luke
Test Pass
Dave's a brilliant teacher, calm, helpful and calming. He does very well in helping you learn from mistakes and always an enjoyable lesson. I'm going to miss the lessons with him but very pleased I've passed my test! Parent Perspective When he started lessons with Dave our son's confidence with driving improved straight away. Dave is great at keeping in touch, keeping parents up to date with progress and very accommodating, even when a test date change is sprung on him! He really does go above and beyond to help his students pass and genuinely cares about them.
Imogen
Test Pass
Dave was a very supportive and helpful and was always up for a laugh to make you feel more comfortable and always check on you the day before to make sure that you are still up for the lesson and he was never late to pick you up for you lesson and he always give tips on how to help your driving.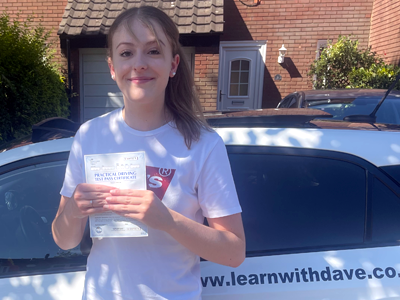 Ellie
Test Pass
I would just like to say a big thank you to Dave, he's been incredibly kind and supportive throughout all my lessons, he always made me feel so comfortable and at ease and I would definitely recommend him. Dave always explains things well and gave feedback during and after every lesson, he helped build up my confidence over my driving journey and helped to calm my nerves before my test, thank you Dave.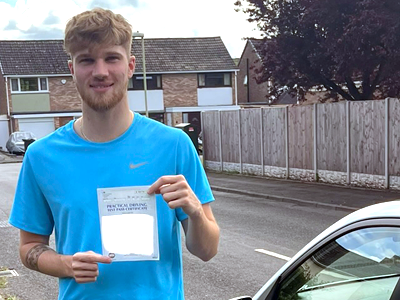 Aiden
First Time Pass
When i was working with Dave he stayed very calm throughout the whole time of him teaching me, this made me not feel as nervous to drive. Also while working with Dave he gave me very helpful pointers and tips to allow me to drive to the best of my ability, with giving me these pointers it also let me understand things quicker than usual. Overall it was really nice and helpful working with Dave and would definitely recommend. Parents Perspective An amazing service from start to finish and what a great gentleman Dave is. Right from the start of asking about lessons Dave explained what happens and what we would need to do going forward. Always kept us updated on how our son was getting on & fitted him in at short notice for Mock Tests after my son had got a last minute driving test. My son then went onto pass 1st time with only 2 minors, which goes to show what a good instructor Dave is. Thank you!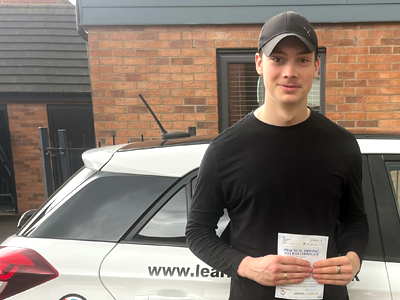 Liam
First Time Pass
We were really pleased with Dave as an instructor for our son's driving lessons. He was very calm, supportive and had a clear plan to achieve a pass first time. We would highly recommend him to anyone.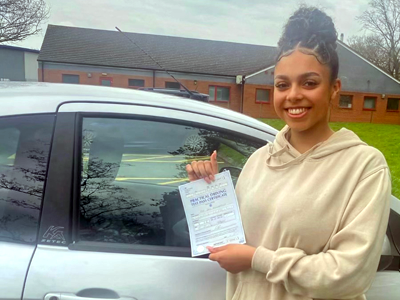 Mia
Test Pass
Right from the start Dave made me feel very comfortable and safe despite nerves on my first lesson. His patients and attention to detail when perfecting my driving skills allowed me to feel confident and prepared heading into my test. His feedback which was given through the lessons and also at the end of lessons enabled me to have confidence in my abilities and encouraged my progress every lesson.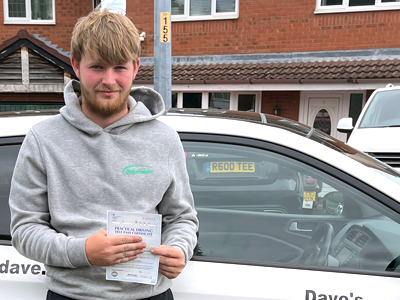 Justin
1st Time Pass
Dave was a brilliant instructor got me a pass within the space of a month turning 17. He put himself out there on his days off to meet instructors to help with getting test routes (due to not doing them in telford),highly recommend to anyone looking to learn. Thank you for all your work you did to help me. I wouldn't of done it today without you. thanks again.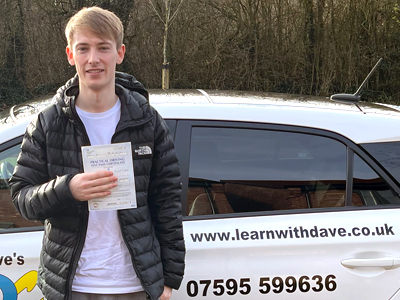 Cameron
Passed Test
Great drive this morning to pass my practical test i couldn't ask for a better instructor always been very understanding and done everything to fit my needs couldn't of done it without him job well done thanks again Dave.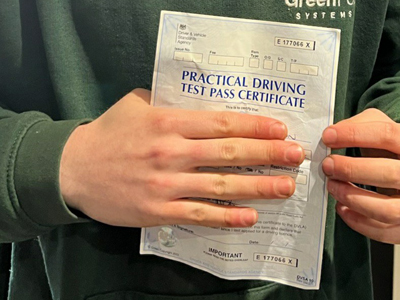 Joel
Test Pass
Dave was very patient when i made mistakes and iI would definitely recommend Dave to other people who want to learn to drive. Thank you Dave.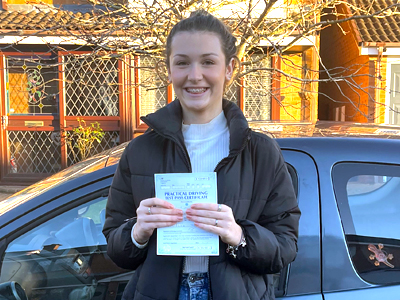 Niamh Brennan
First Time Pass
I would just like to say a huge thank you to Dave, who kept me so calm and got me prepared for my test. It is thanks to you that I managed to pass 1st time, with 1 minor. I felt comfortable with you since our 1st lesson and always explained things well, and understood when I needed help. thank you again 😁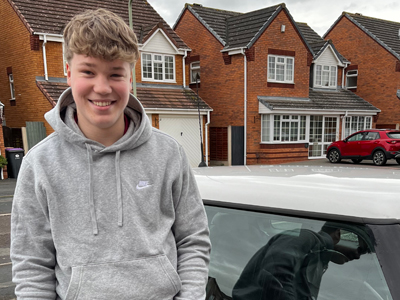 Conor Jay
Test Pass
I felt comfortable from the get go with Dave. Dave had been recommended by several friends. Two hour lessons paid off for me and the additional support around the theory aspect of the test was great. Thanks Dave.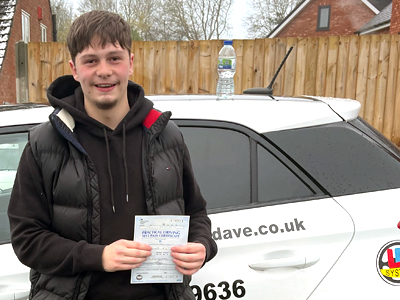 Charlie Clarke
Test Pass
I'd highly recommend Dave as your driving instructor as he's a very friendly person and very thorough with the work required to pass your driving test. Also the patience he's had has been incredible throughout the whole of my driving lesson experiences.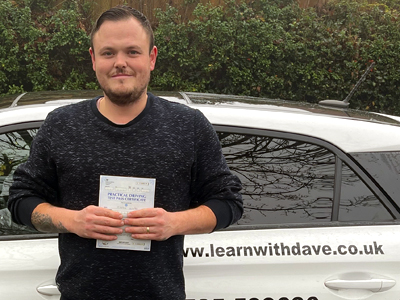 Mitchell Walker
First Time Pass
Thank you so much Dave for getting me where i am today, He makes good jokes to make you feel relaxed. Very friendly and good listener. He will not only teach you to pass your driving test but to be a good driver very professional would highly recommend him to anybody thanks Dave.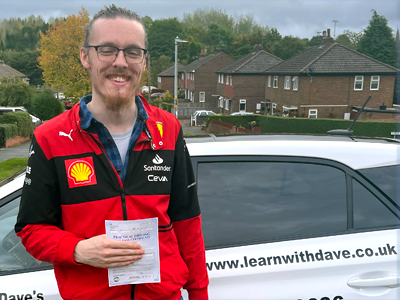 Alex Williams
First Time Pass
Dave is an utterly fantastic instructor who is both patient and informative, his approach to mentoring is effective and efficient. Not only is his knowledge next level, he is also flexible helping me schedule lessons around my two kids and full time work! Would seriously recommend anyone to get in touch and get on the road with Dave.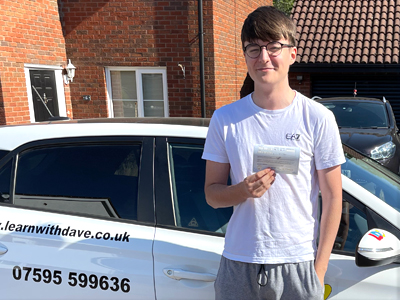 Jack Hurdley
Test Pass
Dave wasn't my first instructor but switching to Dave was probably the best decision I could have made. He was nothing but kind, funny and and great to be with and really made driving fun for me whilst also teaching me a lot and pushing me. I have just passed my test and I owe it all to Dave, don't know where I would be without him.
From a Parent Perspective
From start to finish Dave as been a courteous, helpful, friendly driving instructor who has been a huge part of our Jacks driving experience. Not only did Dave advance Jack from his previous instructor to passing his test but always treated him with respect and was a huge positive in Jacks lessons. When I managed to get last minute driving test he was there for him and even found the time to give Jack a few extra lessons to get him ready for the test. Jack will miss their banter as they had a laugh and that's imperative to be able to have a good rapport with your instructor and Jack definitely got this with Dave. If you are looking at booking your driving lessons then Dave is your man! 100% in all aspects of teaching you to drive with his calm, trustworthy persona keen to teach and always there for you! Jack passed his test and my last words will be THANKYOU DAVE!!!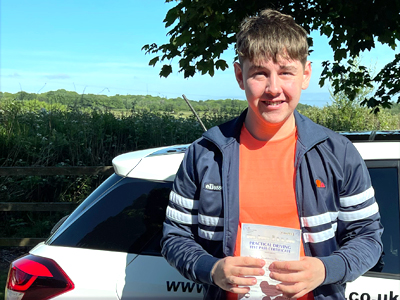 Daniel Overton
Passed 1st Time
Dave is very calm and informative driving Instructor has a brilliant background and knowledge of all the correct content needed to pass, would highly recommend to others starting their driving journey.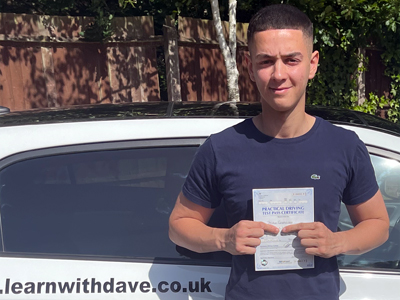 Josh Greenwood
First Time Pass
Dave is firstly a brilliant instructor and is very easy to understand and is I learnt from him fast. He's very supportive in your lessons and just in general. I knew literally nothing when I started with Dave but as weeks went by I started to pick things up fast. I also passed my test first time with only 1 minor I have to say that's because of Dave. His car is only very good to drive and is in perfect condition. I would recommend Dave to any new driver who needs a proper good instructor. Dave is also very easy to get on with which is also a good thing when you want to start learning and I found Dave very easy to sit with whilst I was learning. He also gave me tips on my theory which is. Dave has been brilliant to me for months so I have to give him a 5 star which is fully deserve.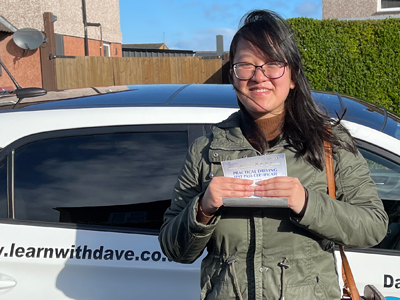 Nicky Tran
Test Pass
Excellent driving instructor. Dave will explain concepts in multiple ways to ensure you fully understand them. He is nice but firm and will tell you what improvements you can make in following lessons. His tutelage definitely helped me pass. I would 100% recommend him to other learners.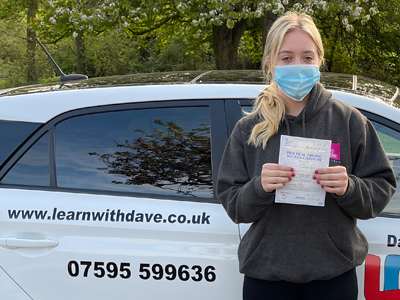 Elle Bromley
Test Pass
Dave was always extremely helpful, patient and friendly, would 100% recommend, couldn't have done it without him!
Gergely Tamas
Passed 1st Time
David Langridge helped me develop my driving skills and helped me pass my driving test. The continuous focus on weaker areas and suggestions on how to improve them allowed me to continuously develop my skills in a safe environment. The ability to practice mock tests was especially helpful as it permitted me to familiarise myself with exam conditions and expectations.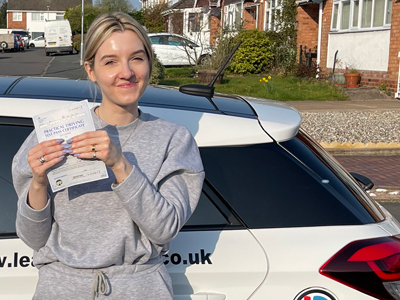 Sophie Hill
First Time Pass
Dave is patient, understanding and makes you feel like you can overcome the many challenges that you're faced with when being a learner. As a very unconfident driver he had his work cut out with me but Dave gave me the tools I needed to pass first time! The LDC workbook and the DVD from LDC are excellent and really helped me record my progress and brush up on theory and the Highway Code. I would recommend Dave to anyone, no matter how much experience or confidence you have behind the wheel. Thanks again for being a brilliant instructor and for being so patient with me. I really don't think I could have done it without your help.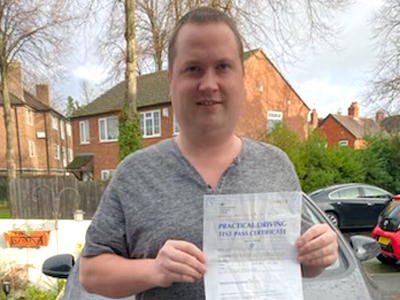 Tony Perry
Test Pass
I switched driving instructors to Dave and my driving abilities and confidence grew greatly. He was patient and calm with me. And thanks to Dave I got a pass. 5 Stars out of 5.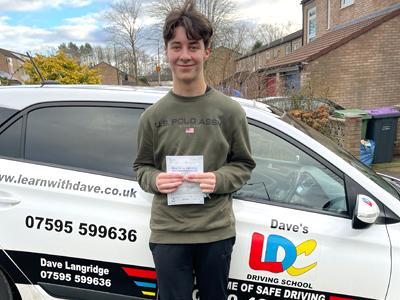 Jamie Harris
First Time Pass
Having Dave as a driving instructor was a great experience for learning how to drive. He gave me allot of effective tips on how to improve my driving in the different areas that needed improving and he was very patient throughout the whole process. Dave was very calm when in the car with me, which made me feel safe when I wasn't very confident first driving in a new car. Coming up to the test I was always reassured to not get overconfident by Dave, which really helped me get ready for my test. Had no problems at all and everything in the lessons that I was taught helped me allot coming up to my test.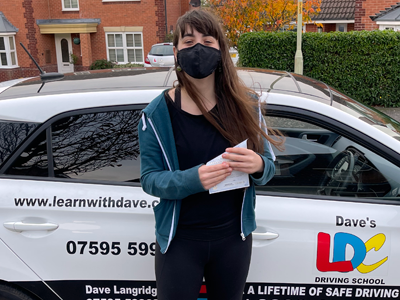 Nicole Sharman
Passed First Time
Dave is a 5* driving instructor, he coached me through my nerves and broke everything down step by step and I've come out of his lessons a better driver. He's great at giving clear, concise instructions and building up your self confidence when driving. Thanks again!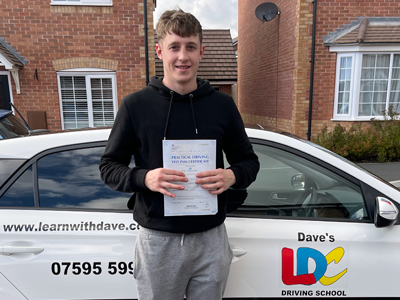 Ewan Mackintosh
Passed First Time
I would rate Dave with 5 stars out of 5 as I felt very comfortable and confident whilst driving under his supervision. I would definitely recommend Dave as a driving instructor because he was very patient and understanding whilst teaching me to drive.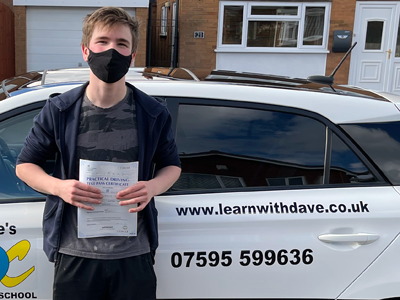 Nathaniel Pointer
First Time Pass
Dave was very professional, patient, and was able to make driving feel a lot easier to learn through a comfortable introduction into driving and progressing at the right speed, he was really helpful in giving me advice to what skills I needed to focus on in particular and helped me pass first time! As well as being very professional he was always up for a good conversation that helped me to feel more comfortable and less nervous whilst driving. And a big thank you for helping me pass and drive with confidence! 5 out of 5.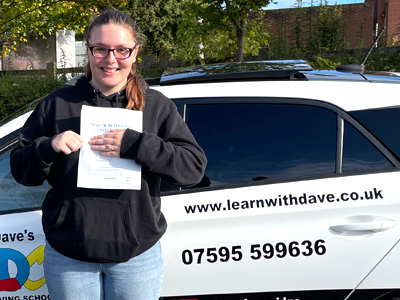 Jordan Williams
First Time Pass
Dave is a fantastic driving instructor who I would really recommend, not only is he patient and informative but he's also a really nice guy! He got me to pass first time and was always really flexible with me, even when he was busy he made time for me.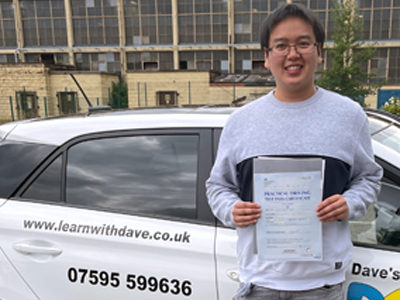 William Tran
Passed 1st Time
Dave is a kind-hearted and exceptional driving instructor with a great teaching technique that puts the safety of his students first. He is always helpful and patient when teaching new skills or polishing up your driving so it can be the best it can be. Without a doubt, I would recommend Dave to anybody learning how to drive.