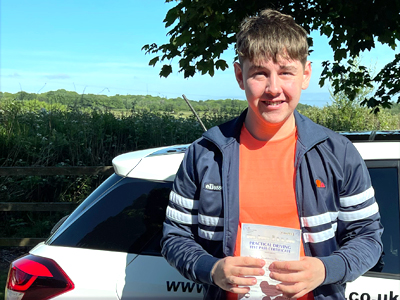 Daniel Overton
Passed 1st Time
Dave is very calm and informative driving Instructor has a brilliant background and knowledge of all the correct content needed to pass, would highly recommend to others starting their driving journey.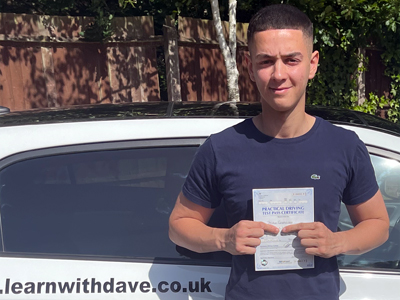 Josh Greenwood
First Time Pass
Dave is firstly a brilliant instructor and is very easy to understand and is I learnt from him fast. He's very supportive in your lessons and just in general. I knew literally nothing when I started with Dave but as weeks went by I started to pick things up fast. I also passed my test first time with only 1 minor I have to say that's because of Dave. His car is only very good to drive and is in perfect condition. I would recommend Dave to any new driver who needs a proper good instructor. Dave is also very easy to get on with which is also a good thing when you want to start learning and I found Dave very easy to sit with whilst I was learning. He also gave me tips on my theory which is. Dave has been brilliant to me for months so I have to give him a 5 star which is fully deserve.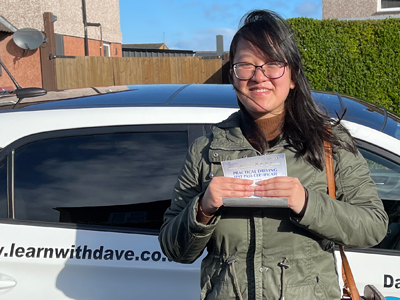 Nicky Tran
Test Pass
Excellent driving instructor. Dave will explain concepts in multiple ways to ensure you fully understand them. He is nice but firm and will tell you what improvements you can make in following lessons. His tutelage definitely helped me pass. I would 100% recommend him to other learners.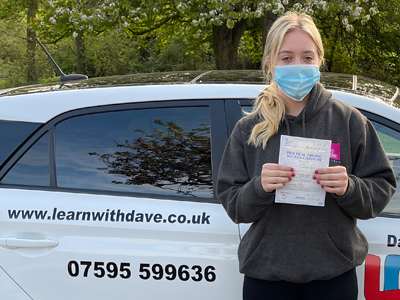 Elle Bromley
Test Pass
Dave was always extremely helpful, patient and friendly, would 100% recommend, couldn't have done it without him!
Gergely Tamas
Passed 1st Time
David Langridge helped me develop my driving skills and helped me pass my driving test. The continuous focus on weaker areas and suggestions on how to improve them allowed me to continuously develop my skills in a safe environment. The ability to practice mock tests was especially helpful as it permitted me to familiarise myself with exam conditions and expectations.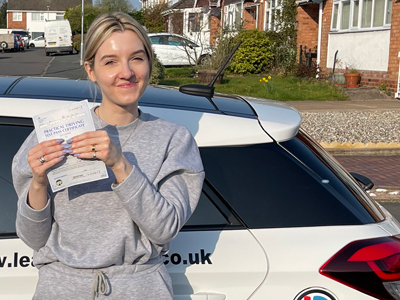 Sophie Hill
First Time Pass
Dave is patient, understanding and makes you feel like you can overcome the many challenges that you're faced with when being a learner. As a very unconfident driver he had his work cut out with me but Dave gave me the tools I needed to pass first time! The LDC workbook and the DVD from LDC are excellent and really helped me record my progress and brush up on theory and the Highway Code. I would recommend Dave to anyone, no matter how much experience or confidence you have behind the wheel. Thanks again for being a brilliant instructor and for being so patient with me. I really don't think I could have done it without your help.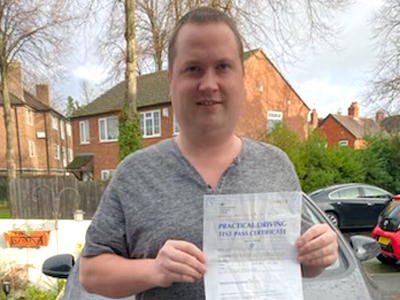 Tony Perry
Test Pass
I switched driving instructors to Dave and my driving abilities and confidence grew greatly. He was patient and calm with me. And thanks to Dave I got a pass. 5 Stars out of 5.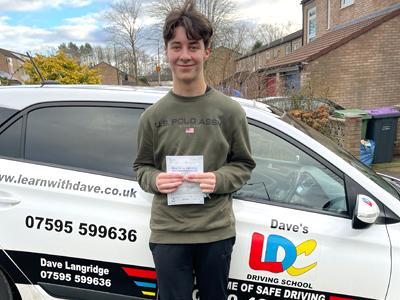 Jamie Harris
First Time Pass
Having Dave as a driving instructor was a great experience for learning how to drive. He gave me allot of effective tips on how to improve my driving in the different areas that needed improving and he was very patient throughout the whole process. Dave was very calm when in the car with me, which made me feel safe when I wasn't very confident first driving in a new car. Coming up to the test I was always reassured to not get overconfident by Dave, which really helped me get ready for my test. Had no problems at all and everything in the lessons that I was taught helped me allot coming up to my test.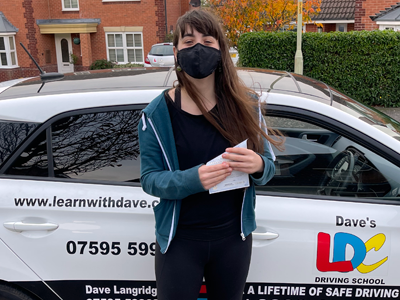 Nicole Sharman
Passed First Time
Dave is a 5* driving instructor, he coached me through my nerves and broke everything down step by step and I've come out of his lessons a better driver. He's great at giving clear, concise instructions and building up your self confidence when driving. Thanks again!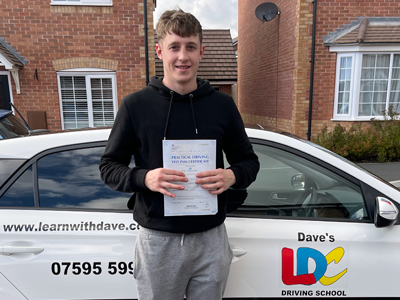 Ewan Mackintosh
Passed First Time
I would rate Dave with 5 stars out of 5 as I felt very comfortable and confident whilst driving under his supervision. I would definitely recommend Dave as a driving instructor because he was very patient and understanding whilst teaching me to drive.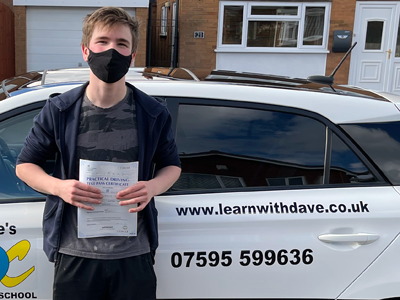 Nathaniel Pointer
First Time Pass
Dave was very professional, patient, and was able to make driving feel a lot easier to learn through a comfortable introduction into driving and progressing at the right speed, he was really helpful in giving me advice to what skills I needed to focus on in particular and helped me pass first time! As well as being very professional he was always up for a good conversation that helped me to feel more comfortable and less nervous whilst driving. And a big thank you for helping me pass and drive with confidence! 5 out of 5.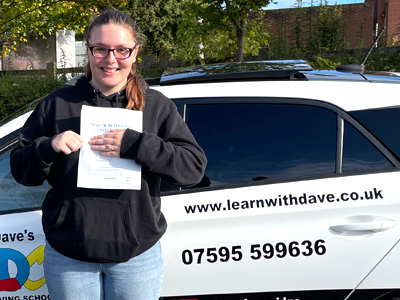 Jordan Williams
First Time Pass
Dave is a fantastic driving instructor who I would really recommend, not only is he patient and informative but he's also a really nice guy! He got me to pass first time and was always really flexible with me, even when he was busy he made time for me.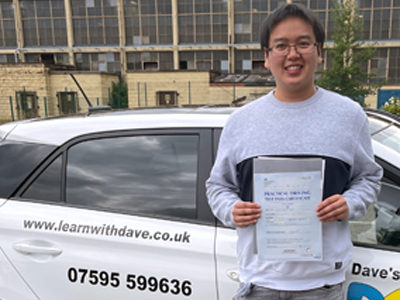 William Tran
Passed 1st Time
Dave is a kind-hearted and exceptional driving instructor with a great teaching technique that puts the safety of his students first. He is always helpful and patient when teaching new skills or polishing up your driving so it can be the best it can be. Without a doubt, I would recommend Dave to anybody learning how to drive.